Vertiv Liebert APS UPS

10-250 kVA/kW - Efficient, Scalable, Intelligent Power Optimized for Midsize IT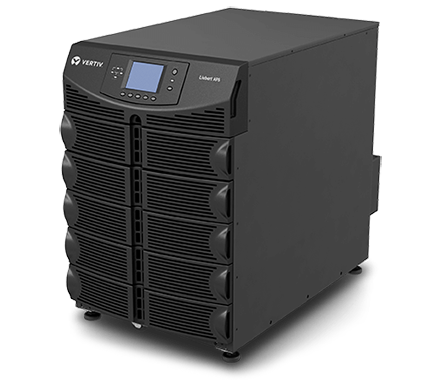 Vertiv Products
Liebert APS UPS
Vertiv Liebert APS 10 Bay Xfmr-free UPS; 10 kVA / 9 kW; 208/120VAC
#AS5B0NCVGNNXFGI
List Price:
$12,470.00
Our Price: $9,602.00
Vertiv Liebert APS 10 Bay Xfmr-free UPS; 15 kVA / 13.5 kW
#AS5C0NCWGNNXFGI
List Price:
$16,180.00
Our Price: $12,459.00
Vertiv Liebert APS 10 Bay Xfmr-free UPS; 15 kVA / 13.5 kW; 208/120VAC
#AS6C0NCWGNNXFGI
List Price:
$18,445.00
Our Price: $14,203.00
Click here to jump to more pricing!
Overview:
Best Suited For:
Banking, Financial and Insurance
Government
Healthcare
Retail and Wholesale
Transportation
A Scalable Power Solution for Dynamic Demands
Provide mission-critical availability while reducing costs and maintaining flexibility for the future with the Liebert APS UPS, a scalable, modular power solution for 5 to 20kVA applications.
Low TCO
With the Liebert APS UPS, you can maintain flexibility for the future and ensure the availability of your critical systems– all while obtaining energy efficiency.
Industry-leading efficiency:

91.5-92% efficiency: 200-240V in/out transformer-free models.
90-91% efficiency: 200/100-240/120V in/out transformer-free models.
88.5-89.9% efficiency: transformer-based models.

Modular batteries, controls and power components to help reduce maintenance costs with user replacement.
Scalability that allows you to cost-effectively add power capacity or battery modules as needed.
Module-level redundancy eliminates the expense of purchasing and planning for additional cabinets.
Reduced installation time and cost because units are shipped pre-configured and factory tested.
Integrated into one system: power modules, batteries, maintenance bypass, and distribution in a single, small-footprint cabinet.
Integral battery monitoring with temperature compensated charging to prolong battery life and help reduce replacement costs.
Two year hassle-free factory warranty program for repair or replacement.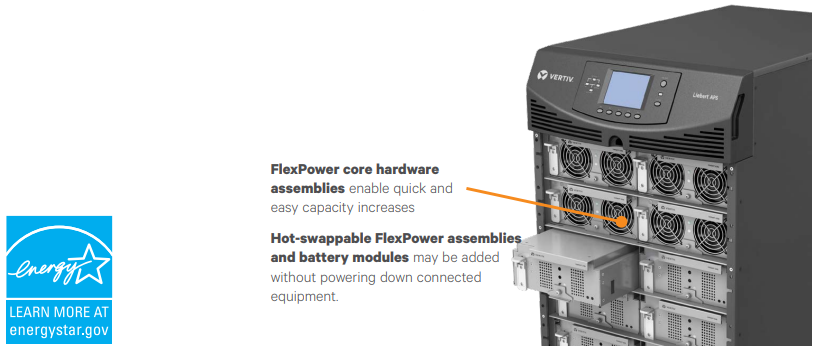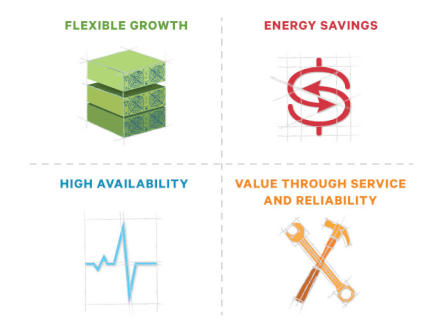 Reliability and Serviceability
Your business depends on the data center and the IT network to run. With the Liebert APS UPS solution, you get peace of mind that your critical IT functions – and your business – will be available and running as expected through power disruptions, fluctuations and outages.
Internal redundancy capability (N+2/20kVA) enhances reliability and provides multiple layers of protection.
No single point of failure - Full redundant design allows the critical load to run on conditioned power if there is a failure of any component.
Configurable design provides your desired level of capacity and redundancy.
Fault-tolerant design, enables the power, battery and control modules to take themselves offline if there is a problem, without sacrificing overall system integrity.
Superior overload capabilities, able to provide conditioned power to temporary overloads without transfers to/from bypass power.
Internal wrap-around maintenance bypass and Frame-level bypass with independent controls in separate assembly provide higher reliability and availability
Low TCO for Today, Flexibility for the Future
Flexibility
The Liebert APS UPS helps you enhance flexibility to stay ready for what's next:
Capacity on demand with FlexPower core modules delivers capacity changes in 5 kVA/4.5 kW increments - without powering down.
More real kW - 0.9 power factor provides more real power to support the I.T. load than many other solutions in this size range.
Isolated and non-isolated models to provide the protection and efficiency you need.
Trellis platform connectivity, so the Liebert APS can easily be integrated with this robust, real-time data center optimization solution.
Communications card option to fit your needs, allow integration with a variety of infrastructure management solutions.

IS-UNITY-DP provides LIFE Services, Web Interface, SNMP, Modbus IP / RTU, BACNet IP / MSTP, & Envrionmental Sensor support. (temperature, humidity, contact closure, leak detection and more).
IS-485EXI provides communication with Liebert SiteScan
IS-RELAY provides 5 contact closures
IS-MULTIPORT provides interface from Trellis Power Insight shutdown software to up to 4 computers

Optional matching external battery cabinets.
Installation Flexibility – use on raised floors, non-raised or in rack.
Large input voltage window, which minimizes transfer to battery and increases battery life; low line transfer can range down to 110v.
Integrated distribution PODs create the right distribution options to meet application requirements.
Service Solutions to Keep You Up and Running
To enhance the availability and troublefree operation of your Liebert APS UPS, Vertiv offers a range of optional service programs, including:
LIFE Services remote monitoring and diagnostic features provides early warning of issues so you can respond to them more rapidly – or solve them before they happen.
Remote monitoring by factory experts, 24 x 7 x 365.
Two year warranty includes onsite repair.
Start-up by factory-trained engineers to ensure proper installation and operation.
Customer resolution center provides direct access to our engineers, whenever you need them.
Exclusive, guaranteed four-hour response time so you never need to wait long for critical assistance.
Preventive maintenance visits to assess your equipment and make corrective adjustments.
Features and Benefits:
Benefits
5 kVA/4.5 kW power modules deliver enhanced active power
Class-leading double conversion efficiency: 92%
Scalable, pay as your grow architecture optimizes initial investment
Iintegral battery monitoring and temperature compensated charging for extended battery life and fewer replacements
Redundant design allows the critical load to run on conditioned power in the unlikely event of component failure.
Hot-swappable power, control and battery modules allow replacement to be carried out without distrubing the load.
Intelligent Battery System provides continuous battery monitoring and protection
Offers LIFE™ Services, real-time remote diagnostics for proactive maintenance, decreasing the average Mean Time to Repair (MTTR)
Upgradeable, even while operating in double conversion mode
Configurable input: one or three phase
Designed for standalone or rack mount installation
Multiple Power Output Distribution (POD) boxes allows for specific application connections
Features
True on-line double conversion
UPS Hot-swappable power and battery modules
High power factor 5 kVA / 4.5 kW power modules
Site configurable as single phase or three phase input
Scalable up to 20 kVA plus 10 kVA of redundancy
Fully rated @ 40°C Stand alone or rack mountable Intelligent battery modules with automatic offline capability for anomalous events
Double conversion efficiency: > 92%
Optional 10 A charger module
Terminal block or optional distribution module output socket
Specifications:
Liebert APS UPS Specifications
Parameters
10 Bay - Xfmr-free
Frame Rating
15 kVA / 13.5 kW
General & Environmental
Conducted and radiated EMC levels
IEC/EN/AS 62040-2 Cat 2, CISPR22 Class A, FCC Part 15 Class A
Compliant safety standards
IEC/EN/AS 62040-1:2008, UL 1778 4th Ed and CSA 22.2 No. 107.1
Compliant immunity standards
IEC/EN/AS 61000-4-2, 3, 4, 5, 6
Environmental
WEEE and ROHS2 (6 by 6), REACH Compliant
Mechanical
Width mm (in)
440 mm (17in)
Depth mm (in)
800 mm (32in)
Height mm (in)
695 mm (27in)
Unit weight kg (lbs)
256.3 kg (565 lbs)
Shipping weight kg (lbs)
274.4 kg (605 lbs)
Environmental
Operating temperature
0 - 40°C (32 - 104°F)
Relative humidity
0 - 95%, non-condensing
Altitude
3000 m (10000 ft) @ 25°C (77°F)
Efficiency (AC-AC)
91.8-92.0
Nominal heat dissipation
4208 BTU/Hr (max)
Input Data
Nominal input voltage
200/208/220/230/240; Single Phase
380/400/415; 3 Phase
Input voltage range
The input voltage range based on the ouput loading, refer to User Manual
Power factor
Single-phase input, > 0.99; three-phase input, > 0.95
Input frequency range
40 to 70 auto-sensing
Battery Module
Battery capacity
36W @ 15min-rate to 1.67V per cell @ 25°C (77°F)
Backup time (full load)
5 (for non-redundant system which has equal number of battery strings and power modules)
Maximum charge current (full load)
Power module internal charger: 1.8A / Charger module: 10A
Nominal voltage
144
Recharge time
< 5 to 90% capacity (PM internal charger with 1:1 ratio of PM to Battery Strings)
Output Data
Output voltage
200/208/220/230/240; Single Phase
Voltage regulation
±3
Voltage stability (100% step load)
±7
Voltage Recovery time
≤ 60
Voltage distortion
≤ 3, linear load
≤ 5, non-linear load
Output frequency
50/60 Hz
Output overload capability
< 104% continuous
105% - 130% for 1 min
131% - 150% for 10 sec
151% - 200% for 1 sec
> 201% for 250 msec
Pricing Notes:
Pricing and product availability subject to change without notice.
Vertiv Products
Liebert APS UPS
Vertiv Liebert APS 10 Bay Xfmr-free UPS; 10 kVA / 9 kW; 208/120VAC
#AS5B0NCVGNNXFGI
List Price:
$12,470.00
Our Price: $9,602.00
Vertiv Liebert APS 10 Bay Xfmr-free UPS; 15 kVA / 13.5 kW
#AS5C0NCWGNNXFGI
List Price:
$16,180.00
Our Price: $12,459.00
Vertiv Liebert APS 10 Bay Xfmr-free UPS; 15 kVA / 13.5 kW; 208/120VAC
#AS6C0NCWGNNXFGI
List Price:
$18,445.00
Our Price: $14,203.00
Liebert APS Power Module
Vertiv Liebert APS Power Module (PM1); 208/120 VAC; 5 kVA / 4.5 kW
#APS5KPWRMOD1
List Price:
$3,400.00
Our Price: $2,618.00