Vertiv Basic Rack PDU

Power Perfectly Configured for Your IT Application

Veriv Products
Basic Rack PDU - Horizontal
Vertiv Basic; Horizontal; 15A; 120V; (10)5-15R
#VP9562
List Price: $122.00
Our Price: $76.00
Vertiv Basic; Horizontal; 20A; 120V; (10)5-20R
#VP9563
List Price: $188.00
Our Price: $117.00
Vertiv Basic; Horizontal; 30A; 208V; (12)C13
#VP9571A
List Price: $308.00
Our Price: $191.00
Basic Rack PDU - Vertical
Vertiv Basic; Vertical; 30A; 208V; (20)C13/(4)C19
#VP7541
List Price: $379.00
Our Price: $235.00
Vertiv Basic; Vertical; 15A; 120V; (14)5-15R
#VP9567
List Price: $223.00
Our Price: $138.00
Click here to jump to more pricing!
Overview:
Vertiv Basic rack PDUs (rPDU) provide reliable power distribution to critical IT equipment within a rack or cabinet. Basic rPDUs are available in a variety of electrical and receptacle configurations. Basic rPDUs meet all compliance requirements, and every unit is 100% tested for reliability and functionality.
Enhance Business Agility, Efficiency and Availability with Vertiv Rack PDUs
Data center investments are sizable, and each component of the power chain from the facility entrance to the rack power distribution is crucial to enabling equipment availability. Enable your IT investment and your business to stay protected with Vertiv Geist family of Rack PDU (rPDU) offerings.
The next generation of rPDUs provides the industry's highest availability and most intelligent power monitoring and distribution — complete with simplified energy management, a future-proof design, and cost savings that ensure your data center and your business — can operate at peak efficiency.
Our complete portfolio of rPDUs offers value beyond power distribution. They easily integrate to your data center infrastructure management systems to make your organization more resilient, enhance your business and provide the technological support you need to grow your company.

Basic rPDUs
Vertiv Geist Basic Rack PDUs (rPDUs) offer reliable, space saving, and cost-effective power distribution at the rack. Our Basic rPDUs meet a broad range of power distribution requirements for all IT applications.
Intelligent rPDUs
Vertiv Geist offers a wide range of monitored and switched rPDUs equipped with a network interface to allow for remote monitoring, management, and automated alerts. Vertiv Geist rPDUs offer important insights on how to improve data center energy efficiency while enabling you to prevent downtime, providing notifications when user-specified thresholds for power and environmental conditions are breached.
Monitored: Monitor power usage remotely with access to the rPDU's current, voltage, real power, apparent power, power factor and kilowatt hours. Available in Unit-Level or Outlet-Level monitoring configurations.
Switched: All the benefits of a Monitored rPDU plus the ability to remotely turn on, turn off, or reboot power at each outlet. Available in Unit-Level or Outlet-Level monitoring configurations.
At a Glance
Simple installation and maintenance; ability to ship pre-installed in racks.
Improve Power Usage Effectiveness with increased visibility on power usage.
Reduce cost of ownership while maximizing ROI.
Software supported mass firmware updates, backup and configuration.
Reduce idle energy costs with bistable relays on Switched units.
Manage and optimize power capacity with remote monitoring.
Expert support with Distribution Assurance Package.
Built-to-Order options available for additional configuration needs.
Improve uptime with Monitored and Switched rPDUs.
How You Benefit from Vertiv Rack PDUs

Designed for High Availability
High operating temperature rating to accommodate increased rack densities.
Secure cords with U-Lock outlets to prevent accidental dislodging.
Hot-swappable and upgradeable monitoring device allows users to upgrade as technology advances and business needs change.

Optimized Energy and Capacity Management
Metering of key electrical parameters with +/-1% accuracy provides highly accurate comprehensive power monitoring.
Lowest idle power consumption in the industry.
Power and environmental trend reports through several Vertiv DCIM solutions to provide visibility and control of energy usage by IT equipment.

Simplified Integration with Management Tools
Integration with Vertiv software stack to simplify implementation and change management translating to real cost savings.
IPv4 and IPv6 support.
Support for all major management, authentication and encryption standards and protocols to fully integrate with higher level data center management software provided by Vertiv or third parties.

Compatibility with Racks and Power Chain
Compatible with all industry racks and can be preinstalled in Vertiv racks to reduce installation costs and implementation time.
Available in all major global voltage and amperage combinations typically used in data center or remote sites.
Easily integrate with Vertiv's full line of power products. A Vertiv expert can assist in selecting the right rPDU for your power chain needs.

Enhanced Security Features
Visible Light Communication (VLC) for quick and secure access to unit and power consumption with the Vertiv rPDU Scanner mobile app.
Together with Avocent ACS VPN and Out-of-Band communication supports highest security communication for Edge applications.
SNMPv3, SSH, HTTP(S) and IPv6 support.
Ensure power system availability with expert support for Vertiv Geist rPDUs
The Distribution Assurance Package combines market-leading rPDU technology with a five-year protection plan and the industry's premier service capability.
Rack Power Distribution Units (rPDUs) are the last link in the power chain, ensuring delivery of critical power to IT loads. These critical components play a key role in data center infrastructure management, giving you access to rack-level power consumption and environmental information. Rack PDUs also allow you to directly control power to IT equipment for better capacity and power management. Having rPDUs that are properly installed and maintained is essential for critical system availability. However, your internal resources who are dealing with time and budget constraints cannot always give rPDUs the attention they need. Additionally, services that aren't provided by the original equipment manufacturer (OEM) may not be comprehensive or include the level of expertise required.
By choosing a bundled solution that combines market-leading rPDU technology with lifecycle services provided by the OEM, you simplify the management of your IT equipment.
Features and Benefits:
Benefits
Avoid potential circuit overloads with remote current metering and monitoring of connected loads.
Power sequencing time delays allow users to define the order in which to power up or down connected equipment to avoid circuit overload.
Remotely reboot outlets to power cycle unresponsive IT equipment or increase runtime of critical equipment upon power failure with outlet-level control.
Reliable power distribution with local and remote power monitoring options offer quick access to critical power usage information to evaluate energy usage trends and maximize uptime.
Environmental monitoring capabilities ensure users have critical infrastructure data at their fingertips.
Upgrade your hot-swappable monitoring device on the fly to leverage new technologies and accommodate changing business needs without having to replace entire power strips.
U-Lock receptacles secure power cords and avoid accidental disconnections.
Simplify circuit and phase balancing with color-coded receptacles.
Monitor power consumption at the outlet-level on select units for a detailed view of power distributed to specific equipment with the outlet level option.
Gather comprehensive power data at the palm of your hand with the use of the Vertiv VLC mobile app.
Every unit is 100% tested for reliability and functionality to ensure units function as designed.
North American units are UL listed in accordance with common data center and insurance provider requirements.
Standard three-year warranty, upgraded to five years with product registration.
Save time and money by pre-integrating Vertiv Geist rPDUs with the VR Rack. Contact your local sales representative to get started.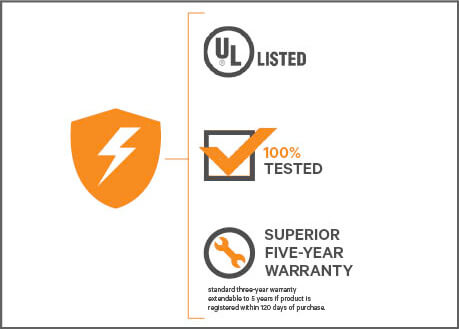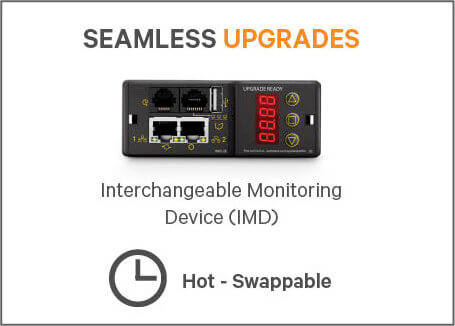 Features
Outlet level control to turn on, turn off, or reboot individual outlets.
Bi-stable latching relays significantly reduce idle power draw.
Upgradeable and Hot-Swappable monitoring device.
Local and remote power monitoring with accuracy of +/- 1% (ANSI & IEC Standards)
VLC (Visible Light Communication)
Environmental monitoring with the addition of optional sensors.
High Temperature Grade 60°C for high temperature environments.
Available in vertical and horizontal rackmount form factors.
Flexibility to meet a broad range of requirements, with a variety of electrical and receptacle configurations available.
Simple and quick installation in all standard racks or cabinets with included mounting brackets.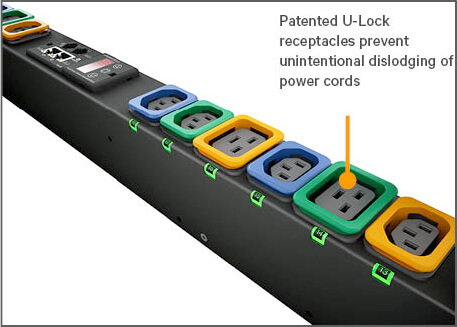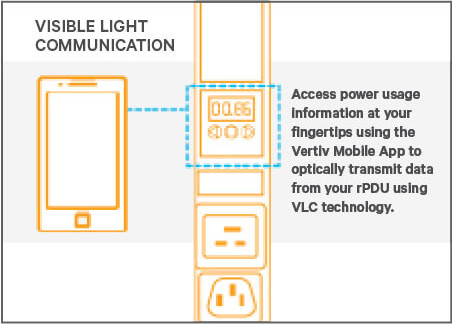 Deployment: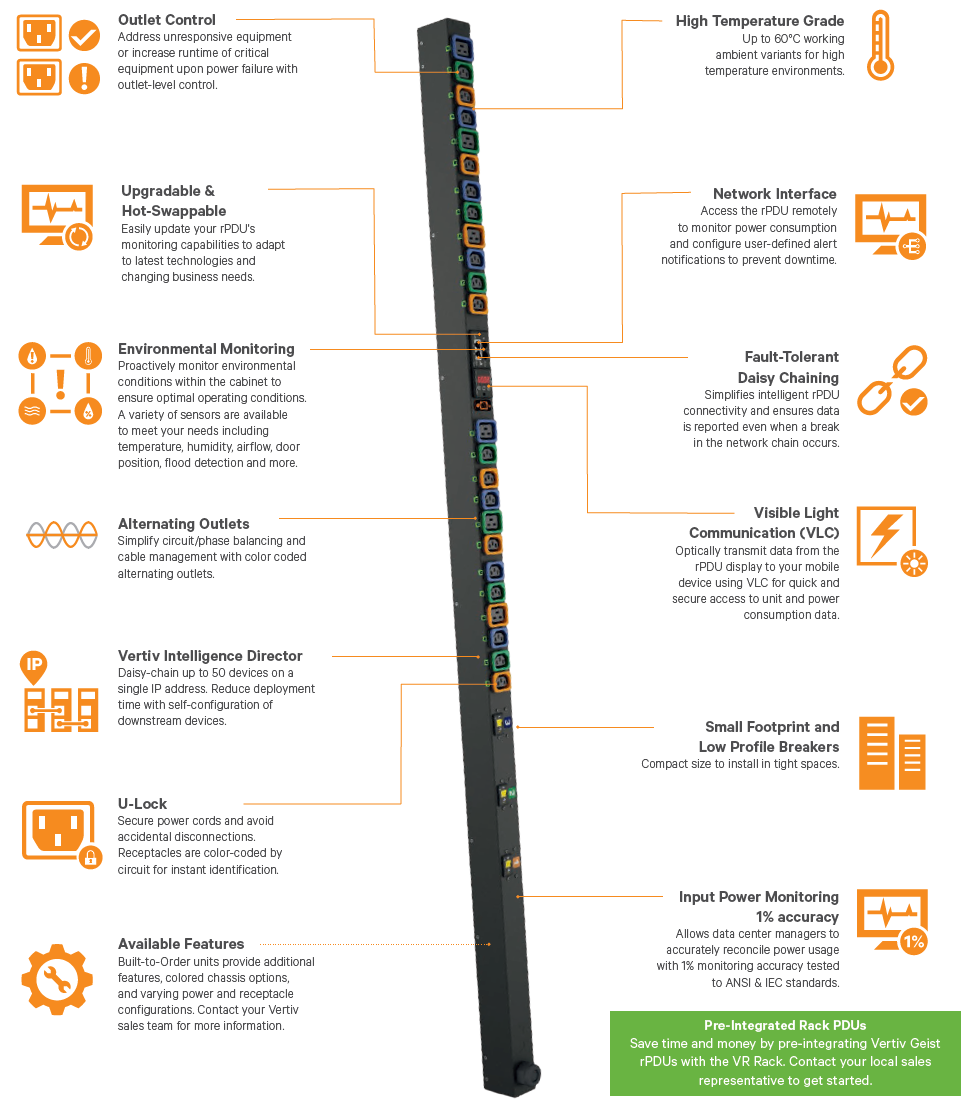 Intelligence Director:
Plug-N-Play Data Center Infrastructure Enabling Lightnigh Fast Deployments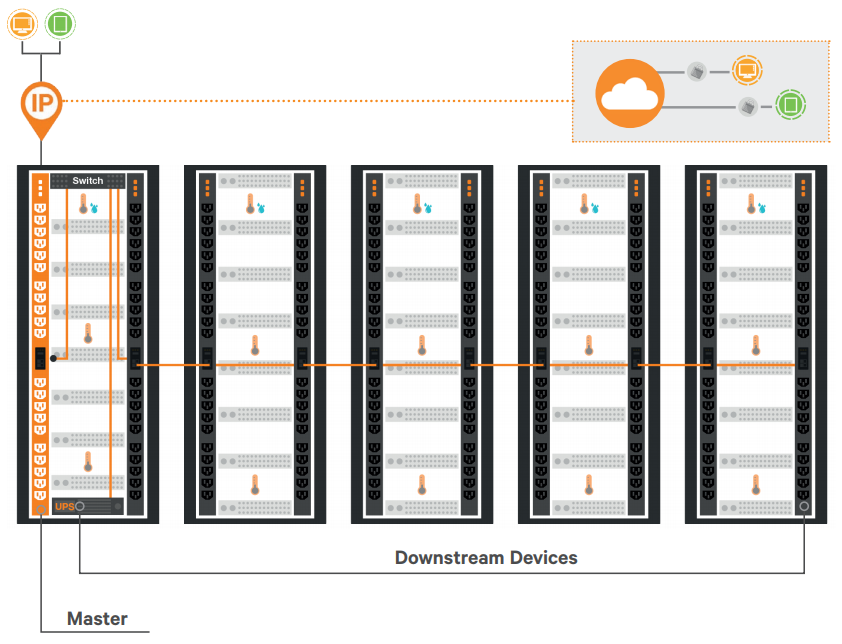 The next generation of Vertiv Geist rPDUs offer enhanced monitoring and simplified networking with the introduction of Vertiv Intelligence Director.
On Monitored* and Switched units, users have the ability to daisy chain up to 50 devices with a single IP address.
Access data from all downstream rPDU and UPS** devices from one master rPDU.
Users are able to aggregate data by grouping devices by rack or row.
Downstream devices self-configure, significantly reducing deployment time.
Securely transmit device data to the Vertiv Intelligence cloud for anytime access to critical infrastructure information.
How It Works
Designate a Switched or Monitored unit with an IMD-3E or IMD-03E installed as the master unit. The IMD-3E comes standard with Switched and Outlet Level Monitored units.
Connect up to 50 devices through a network switch or by daisy chaining the rPDUs to the master unit.
Securely access downstream device data via SNMP or the master unit user interface through a single IP address and bring the consolidated data in your private cloud.
Bring your infrastructure data together with the option to connect to the Vertiv Intelligence cloud platform
*One unit per group is required to have an IMD-03E or IMD-3E installed. The IMD-3E comes standard with Switched and Outlet Level Monitored units. An IMD-03EV can be purchased separately to upgrade a Monitored - Unit Level unit.
**Vertiv Intelligence Director compatible with Vertiv Liebert GXT4 UPS product line.
Specifications:
| Part Number | VP9562 | VP9563 | VP9571A | VP7541 | VP9567 |
| --- | --- | --- | --- | --- | --- |
| rPDU Type | Basic | Basic | Basic | Basic | Basic |
| rPDU Sub-Type | Standard | Standard | Standard | Standard | Standard |
| Horizontal / Vertical | Horizontal | Horizontal | Horizontal | Vertical | Vertical |
| Volts | 120V | 120V | 208V | 208V | 120V |
| AMPS | 15A | 20A | 30A | 30A | 15A |
| Max kW | 1.4kW | 1.9kW | 4.9kW | 4.9kW | 1.4kW |
| Plug Type | 5-15P | 5-20P | L6-30P | L6-30P | 5-15P |
| Receptacle QTY / Type | (10) 5-15R | (10) 5-20R | (12) C13 | (20) C13 / (4) C19 | (14) 5-15R |
| Max Operating Temp* | 45°C | 45°C | 45°C | 45°C | 45°C |
| VI Director | N/A | N/A | N/A | N/A | N/A |
*See data sheet for maximum operating temperature requirements.
**Vertiv Intelligence Director requires one unit per group to have an IMD-03E or IMD-3E installed. The IMD-3E comes standard with Switched and Outlet Level Monitored units. An IMD-03EV can be purchased separately to upgrade a Monitored-Unit Level unit.
Pricing Notes:
Pricing and product availability subject to change without notice.
Veriv Products
Basic Rack PDU - Horizontal
Vertiv Basic; Horizontal; 15A; 120V; (10)5-15R
#VP9562
List Price: $122.00
Our Price: $76.00
Vertiv Basic; Horizontal; 20A; 120V; (10)5-20R
#VP9563
List Price: $188.00
Our Price: $117.00
Vertiv Basic; Horizontal; 30A; 208V; (12)C13
#VP9571A
List Price: $308.00
Our Price: $191.00
Basic Rack PDU - Vertical
Vertiv Basic; Vertical; 30A; 208V; (20)C13/(4)C19
#VP7541
List Price: $379.00
Our Price: $235.00
Vertiv Basic; Vertical; 15A; 120V; (14)5-15R
#VP9567
List Price: $223.00
Our Price: $138.00